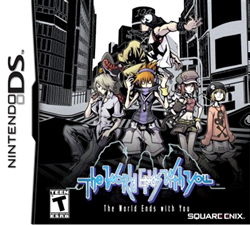 The World Ends With You
is a Nintendo DS game developed by SQUARE ENIX's Kingdom Hearts team and Jupiter.
This game is set in the modern-day Shibuya shopping district of Tokyo. It revolves around a boy named Neku Sakuraba, in which he and his allies are forced to participate in the Reapers' Game. Killed within the Realground (RG), the selected players are brought to the Underground (UG) to fight for a prize: to be brought back to life, or to become a Reaper.
This game is played using both the stylus and game controls.
Rating: 9.5 out of 10
Development company: SQUARE ENIX, Jupiter
Recommended audience: All ages